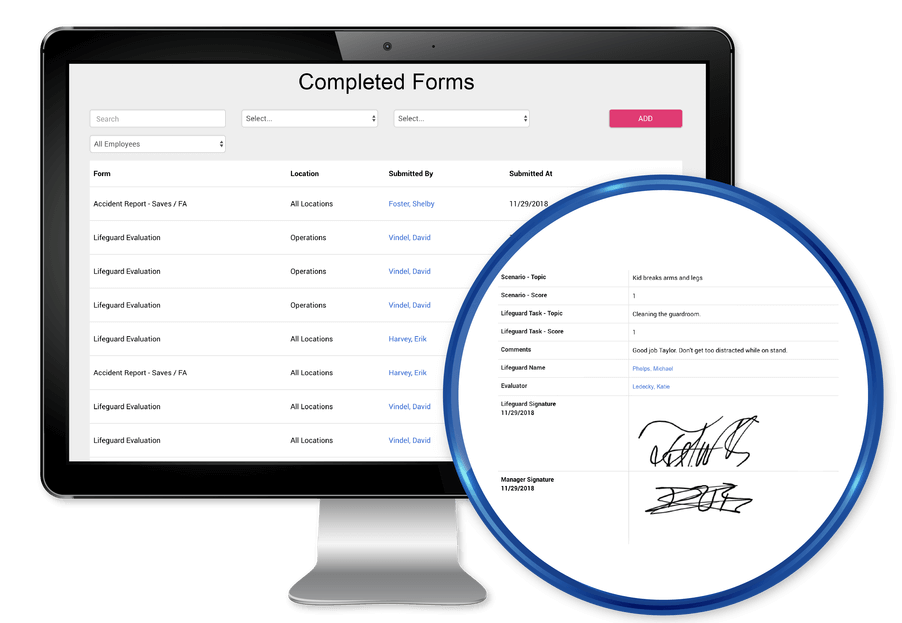 Here's the scoop:
In this webinar we will be showing an overview of the DigiQuatics Custom Forms module. By digitizing your aquatics and facility form process, you can improve the efficiency of your operation, communicate in real-time when issues arise, and ensure your risk management is a top priority in your organization to be prepared if and when a lawsuit or other issue comes up.
Learn how to empower your staff to prioritize risk management with accessibility right at their fingertips. Gone are the days of binders with forms at every facility, needing to print forms out during a stressful situation, or hoping management gets alerted properly in the event of an emergency.
Here's what you'll learn:
How to create your own custom form
Giving your form access to one or multiple locations in your account
Adding custom field types such as:

Short & Long Text Fields
Number Fields
Date & time pickers
Customized drop-downs
Pre-built drop-downs, i.e. employee, location, positions, etc.
Checkboxes & radio buttons
Sections, i.e. Part I Name, Part II Name, etc.

Setting form access levels for employees and supervisors
Filling in form descriptions with Markdown, i.e. bold, italics, links, etc.
Handling file attachments on forms including pictures, videos, and PDFs
Setting up e-signatures on forms
Configuring email alerts when forms are submitted
DigiQuatics Custom Forms module will allow you to digitize common aquatics and facility forms such as:
Accident Report Forms
Incident Report Forms
MAHC Aquatic Facility Inspection Report
Body Fluid Contamination Response Log
Accidental Fecal Release (AFR) Response Form
Water Rescue Report
Mechanical Room / Pump Room Report
Lifeguard Safety Audit Form
Employee Disciplinary Action Report
Lost and Found Report
And many more! The possibilities are endless!
For more information about the webinar before you register, please email us at team@digiquatics.com.